NMSBA NEWS BRIEFS
---
2019 Legislative Session Underway!
The First Session of the 54th State Legislature is underway. Following  Governor Michelle Lujan Grisham's first  State of the State Address, committees have been appointed, meeting schedules have been adopted, and a record number of public education bills have been introduced.
Here is some key information:
The House Education and Senate Education Committees will meet on Mondays, Wednesdays and Friday at 8:00 a.m.
The House Appropriations and Senate Finance Committees will meet Monday thru Friday at 1:30 in the afternoon.
Click here to view Key Legislative Committee Membership Listing
To obtain Legislator contact information, bills, schedules or if you wish to view floor or committee meetings click here: NM Legislative Website 

Review and download our

2019 NMSBA Legislative Program

here.

Key dates for the Legislative Session include:

January 15 – Opening Day (noon)
February 14 – Deadline for introduction
February 21-23 – NMSBA Board Institute
March 16 – Session ends (noon)
April 5 – Legislation not acted upon by governor is pocket vetoed
June 14 – Effective date of legislation not a general appropriation bill or a bill carrying an emergency clause or other specified date
Stay informed, involved, and engaged with NMSBA's Legislative Highlights which we will send to our members throughout the legislative session and feel free to contact Joe Guillen, Executive Director or Lilliemae Ortiz, Legislative Liaison, if you have questions or need additional information.
***
NMSBA Conducts 2018 Annual Convention!
School board members from across New Mexico gathered in Albuquerque December 7-8, 2018 to participate in the 2018 Annual Convention of the New Mexico School Boards Association (NMSBA) at the Embassy Suites Hotel in Albuquerque. School board members listened to keynote speakers and participated in informative breakout sessions. Association members also elected new officers for the coming year and recognized school board members for their outstanding service and training accomplishments. See Post Convention News Release (below) for more information.
***
Gubernatorial Candidates Address Successful Leadership Retreat!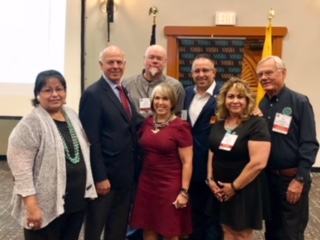 We are very pleased both Gubernatorial Candidates, Congresswomen Michelle Lujan Grisham and Congressman Steve Pearce addressed the 2018 NMSBA Leadership Retreat at the Sagebrush Inn in Taos July 13-14. The candidates provided a brief update on federal education issues, shared their plans for public education in New Mexico and answered numerous questions from members in attendance.
In preparation for the candidates NMSBA prepared and presented a White Paper – Education in Our State, Summer of 2018 which states  the priorities, challenges and guiding principals  we face as school boards in New Mexico today.
Attendees also took advantage of an outstanding retreat program entitled "Leadership and Learning" which focused on building leadership skills for school boards and included the following: Update on the State's ESSA Plan; Effective Lobbying for School Board Leaders and an additional fifteen informative and interactive breakout sessions
Leadership Retreat Presentations can be viewed and downloaded on our Resource Center webpage or by clicking here Past Conference Presentations
***
2018 NMSBA School Law Conference A Success!
Thanks to all who attended NMSBA's 39th Annual School Law Conference. We received many compliments on the quality of the program and the many learning opportunities provided. We also had a great 60th Anniversary Celebration with many dignitaries and partner organizations presenting congratulations and best wishes. Twelve of our past presidents were in attendance as well.  To view or download all conference presentations please click here School Law Conference Presentations or go to the Cuddy & McCarthy Resource webpage.
2018 NMSBA School Law Conference Press Release
***
NMSBA Celebrates 60 Years of Service to School Boards
The New Mexico School Boards Association is proud to be celebrating 60 years of service to New Mexico's school boards. Created in 1958 by a visionary group of school board members and educators, NMSBA has now served as a leader in New Mexico's public education system for six decades.
A special 60th Anniversary Reception was held on Friday, June 8  at the Hotel Albuquerque, in conjunction with NMSBA's 39th Annual School Law Conference. The reception included: Mariachi Entertainment; Review of the Association's History; Recognition of Past Presidents and Executive Directors; Presentations by Special Dignitaries; and Viewing of Photo and Memorabilia Exhibits.
 ***
Twenty-Four NMSBA Scholarship Award Recipients Announced!
NMSBA announced their 2018 Scholarships Awards to twenty-four outstanding high school graduating seniors at the School Law Conference. Each will receive a $1,000 scholarship to further their education. Nominations were received from school boards and selections were based on criteria including demonstrated leadership, academic performance, community involvement and extracurricular activities. The 2018 Scholarship Award Recipients including photos can be accessed by clicking here:
***
NMSBA Excellence in Student Achievement Awards Announced!
The New Mexico School Boards Association announced recipients of the 2018 Excellence in Student Achievement Awards. The awards, sponsored by NMSBA, are presented to individuals selected by local boards of education throughout New Mexico who have played an important role in improving student achievement in their local school district. For specific information about award recipients, please contact the local school district. Sixty-four (64) school boards participated in this year's program and one hundred six (106) award recipients were selected. Recipients will be honored at upcoming school board meetings throughout New Mexico. Please click here access News Release which includes the names of all award recipients.
***
NMSBA Now Posts Superintendent Vacancies
NMSBA is now posting superintendent vacancies for member boards on our Superintendent Search Page. Please contact Joe Guillen, Executive Director, for additional information. See the latest posts by clicking here.
***
For more information click on this link.
by clicking on this link.
archived for up to a year for board member reference.
New Mexico School Boards Association
300 Galisteo Street, Suite 204
Santa Fe, NM 87501
Phone (505) 983-5041 * Fax (505) 983-2450 * e-mail: nmsba@nmsba.org
Updated 1.3.2018  Copyright © New Mexico School Boards Association
Website administered by NMSBA
Send comments about this page to: nmsba@nmsba.org